Hoi An Daily Tour: Basket Boat Race
Hoi An Eco Tour with Basket Boat Race is used for the incentive group or Mice that would like to have crazy fun with the adventure basket boat race at Cam Thanh Village. We divide people from the group in to small teams and we lead them to join into the race by working by team pair.Most of people in the team have to work to get the boat run. The winner of the game will be awarded with special gifts. The whole of the program will be led and controlled by eco-tour team.
Hoi An Eco Travel: Basket Boat Race with Hoi An EcoTour
Tourduration : 4 hrs
Departure : Morning and afternoon
Location : The mouth of The Cua Dai Sea
Tour run : Minimum 20 pax
Contact: hoianecotravel @gmail.com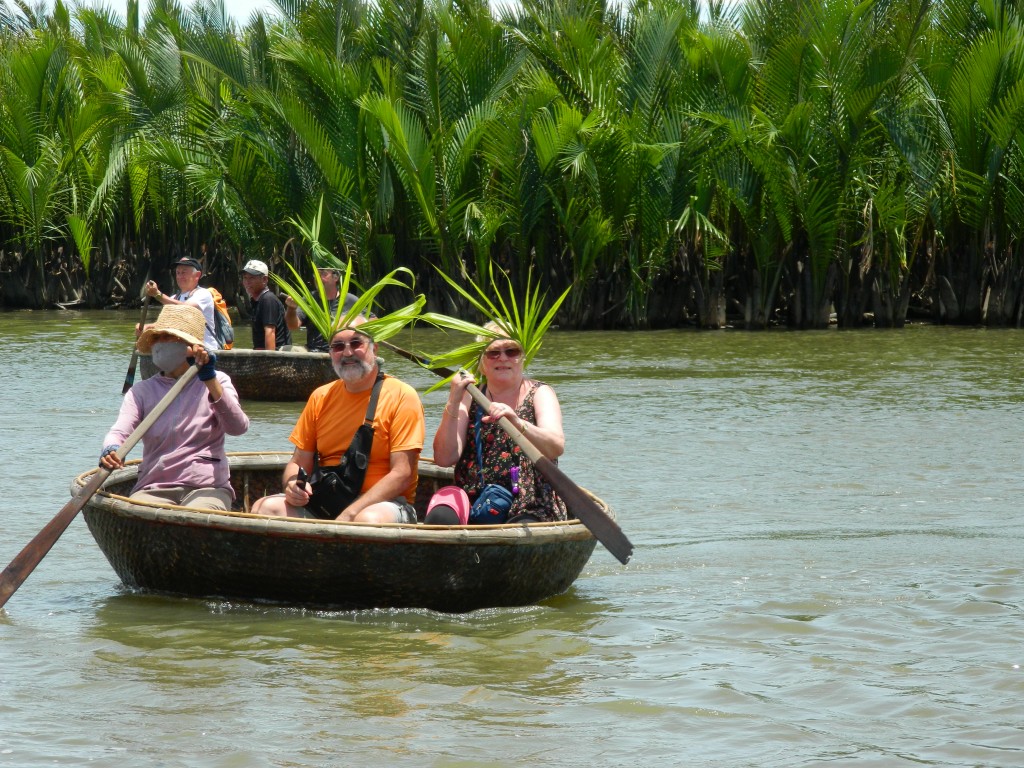 TOUR PROGRAM:
- Hotel pick up
- Transfering guest on board
- The competition can be described as follow:
- Divide the group into small teams which is based on the actual number of pax for example , if there are group of 40 people, 4 teams will be divided as suggested . Each team has 10 pax. It is required to have 2 pax in one basket boat with two paddles, they play 5 rounds with the other basket boat teams. To make the game under control, Hoi An eco tour will put the number for each team as Team 1, Team 2, Team 3, Team 4. Each of team can choose the best players to play with others. We will find the winner and then special award will be offered for them.
* The end of the Basket Boat Race with Hoi An EcoTour - Hoi An Eco Tour thank you very much for join with us *
PRICE $30 / 1 Person
(Valid from Jan 1st, 2013 to Dec 31st, 2016)
YOUR OUR PACKAGE INCLUDES:
- Boat & car transportation
- Pick up and drop off at hotel
- Tour guide
- Passenger insurance
- Life jacket
- Cold drinks
CHILD POLICY & TOUR CONDITIONS:
- Children under 4 years old is free, from 4 to 11 years old is charged as a half of price and children at 12 years old and over will be charged at adult rate
- In case of bad weather or unexpected reasons happened, booking tour for cancellation must be informed at least 2 hours in advance by phone, fax or email
- Please be advised that we surcharge 12$ for a seafood meal on board for 1 person.
- All of the eco-tours are excluded 5% VAT
- No show for tour will be fully charged 100% according to the eco-tours's policy.
 Rate is subject to change without prior noticement./.
Basket Boat Race with Hoi An EcoTourEco tour hoi an Viet NamEco Tours Hoi AnHoi An Daily Tour: Basket Boat Racehoi an eco tourHoi An Eco TravelHoi An Excursionhoi an travel