Rowing Basket bowl
HOI AN ECO TOURS

- Rowing Basket bowl at Hoi An Heritage Town

.
It is a big regret for you since Exploring Hoi An without try rowing basket bowl with Hoi An Eco Tour. For the first time, you will be very dizzy when try to row the basket bowl by yourself, it seem to turn around turn around most of time, despite you try your best to control the basket bowl. It require you must to be very patient, calm down when using it. It's the reason why so many tourist come to Hoi An want to join with Hoi An Eco Tour for rowing Basket Bowl, the local people here named it is "THÚNG CHAI", it is quite similar with us, but not too much people can row and control it easily.
√ Tour code: Hoi An Daily Tours – Rowing Basket bowl
√ Pick up: Hotel at Hoi An Town
√ Destination: Cam Thanh Fishing Village
√ Mean: Bicycle | Car
√ Tour: Hoi An Daily Tours
√ Departure time: 08:00 Am – 13:30 Pm
√ Email: van.hoianecotravel@gmail.com
√ Web: www.hoianecotravel.com 
√ Hotline: +84.905.22.33.43 Ms. Van
ITINERARY
09:00 Pick up at Hoi An Hotel, move to Cam Thanh wharf.
09:40 Go up to the boat for reaching to Bay Mau Coconut Palm Forest.
09:45 Move to basket boat for starting the journey to explore the BAY MAU COCONUT PALM TOURS: learn how to row the basket boats, fishing crab, throw the net for catching fishes, how to make the hat, grasshopper, rings etc. by coconut palm leaves. Especially is the fantastic performance rowing the basket boat.
11:30 Have lunch at the restaurant and rest on the hut or hammock or leafy house.
14:00 Boat will return guests to Cam Thanh wharf.
14:30 Finish the BAY MAU COCONUT PALM TOURS and transfer guests back to Hotel.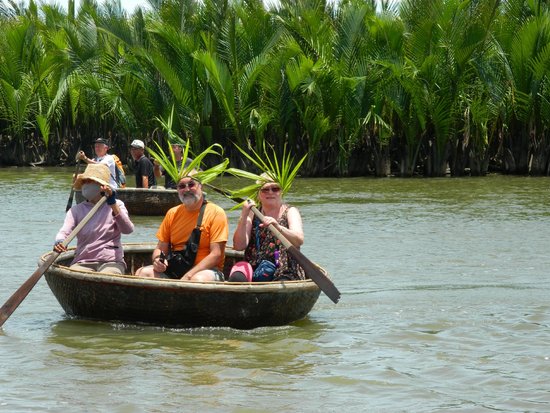 Don't hesitate to join with Hoi An Eco Tour – Rowing Basket bowl as information package Tour below: 
PRICE:

 650.0000

 

Vnd|Pax = $30
(Applies to a group of 02 adults or more)
SERVICES INCLUDED
√ Tour guide.
√ Bicycle services.
√ Transfer & pickup 
√ Rowing Basket Bowl Lesson.
√ Lunch.
√ Mineral Water. 0.5l/pax.
SERVICES NON – INCLUDED
√ Tip for tour guide
√ Personal things (sun cream, hat/cap)
√ VAT 
TOUR PRICE FOR CHILDREN
√ Children under 5 years old: FOC.
√ Children from 5 – 9 years old: 75% of the fare.
√ Children over 10 years old charged as an adult.
Wishes you enjoy the tour with us!
Any further information please don't hesitate to contact us
---
HOI AN ECO TOUR
– HOI AN DAILY TOURS
 – EXPLORING HOI AN TOURS
[A]: Cua Dai – Hoi An – Quang Nam – Viet Nam 
[T]: 0235.936.111– Fax: 0235.936.11 – Hotline: 0905.22.33.43 Ms Van
[E]: van.hoianecotravel@gmail.com
[W]: www.hoianecotravel.com
Eco Tours Hoi AnHoi An ActivityHoi An Daily Tourshoi an eco tourHoi An eco-tourshoi an explorerhoi an travel