Hoi An Da Nang Jeep tour discover Son Tra peninsular: There are many beautiful natural sights at the Son Tra Moutain. Climb to the top of the mountain and look over Da Nang with environment fresh city
Visit many beautiful places: Linh Ung Pagoda, But beach, Millennium Banyan Tree, Ban Co Hill, Lighthouse, Golden beach, Tien Sa beach, with stories that everyone wants to be experience.
Experience Hoi An – Da Nang jeep tour, visiting Son Tra Peninsula will allow you to experience the Jeep Da Nang adventure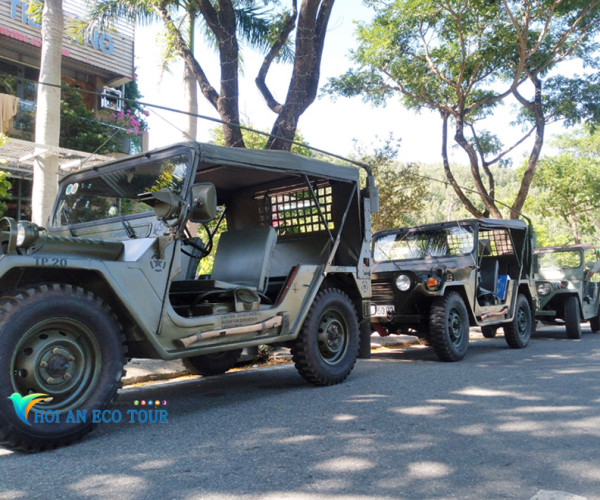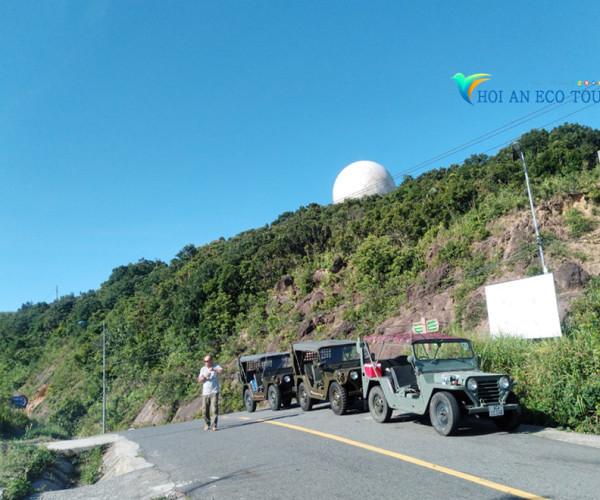 Tour start time from 09:00 - 17.00 (depending on season and your hotel location)
Duration: 2.5-03 hours
Jeep wine: red, white or sparkling wine upon request (extra charge)
A"Romantic decoration Jeep" with flowers and ribbons is available upon couple's request (surcharge: 400,000 vnd/jeep)
Journeys
Hoi An Da Nang Jeep Tour 1 Day Discover Son Tra Peninsular 

08:00

Jeep tour Hoi An picks you up at your hotel at Hoi An and hotel near the beach of Da Nang city departs to visit Son Tra Peninsula, Linh Ung Pagoda.

09:00

On the way, jeep car stop at the Marble sculpit village, After the jeep will stop at Linh Ung Pagoda. One of the bigger pagodas in Vietnam

09:30

You have the opportunity to enjoy the panoramic view of Da Nang city. Jeep car stopped at the InterContinental Resort for a photo. The first five-star hotel in Vietnam, wherer to visit and stay of US President Donald Trump

10:30

Start the journey up the mountain and reach the top of Son Tra, where there are mountain with many flower and bird landscapes. If you have a chance, you can also see the Langurs of the "World Red List Animals".

11:00

Leaving the top of the board, you will go to the main attraction: "The Millennium Ancient Banyan Tree"

12:30

Bid farewell to The Millennium Ancient Banyan Tree, move to the urban area, and have light lunch meals in the restaurant

14:00

The jeep car drop off you back to the Hoi An Hotel. The end of the Hoi An Da Nang Jeep Tour 1 Day Discover Son Tra Peninsular

Group up 5 pax please contact Hotline: 0916.52.8884 (Mr Smith) for special price

(Applies to a group of 02 adults or more)
Price per adult / Unit: VND
Number of pax
01 - 02
03-04

Price

2.500.000
2.300.000
Note: One Jeep car can hold maximum 03 adults include: 01 driver + 02 passengers and 01 childrent under 5 years old)
Tour Including
Jeep car drop off and see off at the hotel

All Visiting tickets

Light meals

Local driver guide with good care and friendly

Water (1 bottle 0.5ml)/ person / day.
Tour Excluding
Tips for waiters, tour guide, drivers.
Other personal expenses
Tour price for children
Child is under 05 years old at free of charge
Child from 05-10 years old at 50% price of adult
FOC policy: 01 FOC for 16 paying pax (17 – 1) & maximum 02 FOC per group
What your should bring?
Sunbath protection & Lotion
Big hat or Umbrella
Sunglass
Camera with full battery
Short
T-Shirt
What your should not bring?
Credits card
Valued belongings
The order of attractions in the Hoi An Jeep tours program can be flexible changed to suit the journey time, but still make sure the route program for you.
Pregnant women over 6 months, spinal cord injury visitors, cervical discharge, myocardial infarction, heart disease will not be allowed to join in this program for themselves safety.
Groups over 10 guests we will organize a private tour or group tour according to the actual situation but still ensure the quality of service and program does not change.
Refund 100% of the fee if the weather is affected or the political situation is unstable.
Do not throw garbage, litter in public places or plastic bottles into the river
Hoi An Jeep tours PACKAGE is a package tour (personal expenses outside the program, you pay yourself)
Hoi An Jeep tours Program can be flexible changed according to the actual situation, but still ensure the tour programs for you.
On the Public, New Year holidays, surcharge 30% of tour price
If confirm booking please send us the list includes: Name, date of birth, email address (if available) or mobile numbers to companies for buying insurance. 
CONTACT
HOI AN ECO TRAVEL
Add: Cam Thanh, Hoi An, Quang Nam, Viet Nam.
Tel: 02356.25.83.83 - Hotline: 0916.52.8884
Email: hoianecotravel@gmail.com
Website: www.hoianecotravel.com
Da Nang Jeep toursHoi An Da Nang Jeep toursHoi An Jeep toursHoi An Son Tra Jeep toursSon tra Peninsular jeep tour
Let us know as your request
If the tour program does not your equest, please send to us your request information via contact email: hoianecotravel@gmail.com