Cham Island Fishing Tour: Discover and enjoy fishing feelings on the Cham island. Fishing tour has become so popular with domestic and foreign tourists come and enjoy…
Cham Island is a group of 8 small islands, which has been recognized by UNESCO as the World Biosphere Reserve (Cu Lao Cham Marine Park). This ideal destination is endowed with marvelous topography of mountain slopes and biological diversity.
From Cua Dai Beach, Quang Nam province, it takes about 15 minutes to arrive at Cham Island by Speed boat, though tourists may choose – 60 minute-boat instead, to enjoy the feeling of travelling by fishermen's boats…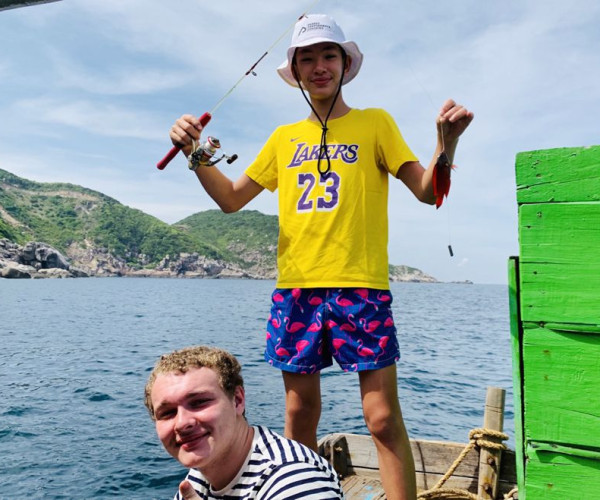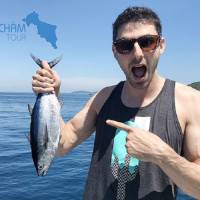 Tour code: Hoi An Daily Tours – Cham Island Fishing Tour
Pick up: Hotel at Hoi An | Da Nang
Destination: Cham Island
Mean: Car | Speed Boat
Tour: Cham Island Hoi An Tour - Hoi An Daily Tours
Departure: 08:30 Am
 Group up 5 pax, please contact 02356.25.83.83 or Hotline 0973.52.8884 for special support
PRICE: $ 100 USD/1 PAX
Tour Program
Cham Island Fishing Tour
07h45

Pick up at your hotel in Da Nang, Hoi An Ancient town. transfer to Cua Dai Port

08h30
Go to Cua Dai port to discover the island by Speed boat (at least: 15 minute)
09h00
Wooden boat pick up at Cham Island port go to Hon Nhon – Hon Dai for fishing tour. The local fishingmen  will show all fishing equipment and how to catch  the local fish.
11h45
Back to the boat come to the  beach, swimming, snorkeling and sea live things
12h30
Lunch, rest, viewing scenery walking, swimming, sunbathing.
14h30

Arriver Cua Dai port. Cars take customers back and the end of Cham Island Fishing Daily Tours./. 

Group up 5 pax please contact Hotline: 0973.52.8884 (Mr Smith) for special price

CHAM ISLAND TOUR WITH SET MENU

Steamed Snails

Grilled Scallops

Grilled Fish

Sweet and Sour Fried Squid

Salted shrimps

Stir Fried Beef

Sea food Soups

Local Vegetables

Mixed Vegetables

Fried Eggs 

Steamed Rice 

Dessert (Husband and wife cakes or fruits)
Tour price for children
Children under 05 years: free tour price (insurance charge $10 USD / 1 child).

Children from 5 years old to 10 years old: ++ 75% price

Children over 10 years old: 100% of the tour as adults.
Tour including
Free pick up and drop off at the Hotels | Resorts in Hoi An

Speedboats, wooden boat with safety equipment including life jacket supplied

Fishing tour and Fishing equipment 

Rods and baits supplied

Visiting Tickets

01 Local of Beer on lunch meal 

Lunch with specialties seafood

Local guide with good care and friendly 

Local fishing men

Water (1 bottle 0.5ml)/ person / day.   
Tour Excluding
Tips for waiters, tour guides and drivers.

Other personal expenses

Diving Services (50$ USD/1 Pax) . /.
What your should bring
Swimming Towels

Sunbath protection & Lotion 

Big hat or Umbrella

Sunglass 

Camera with full battery

Short or Bikini

T-Shirt 
What your should not bring
Credits card

Valued belongings
Cham Island tour noticement
TheThe order of attractions in the Cham Island Tour Program can be flexible changed to suit the journey time, but still make sure the route program for you.

Pregnant women over 6 months, spinal cord injury visitors, cervical discharge, myocardial infarction, heart disease will not be allowed to join in this program for themselves safety.

Groups over 10 guests we will organize a private tour or group tour according to the actual situation but still ensure the quality of service and program does not change.

Refund 100% of the fee if the weather is affected or the political situation is unstable.

Do not throw garbage, litter in public places or plastic bottles into the sea

Cham Island Tour PACKAGE is a package tour (personal expenses outside the program, you pay yourself)

Before taking a dive, scuba dive, snorkeling: Please double check your personal equipment such as cell phone and lightly exercise before jumping to the water.

Cham Island Tour Program can be flexible changed according to the actual situation, but still ensure the tour programs for you.

On the Public, New Year holidays, surcharge 30% of tour price.Please see at for Cham Island Group Tours Trip 
Cham Island daily tour see more at: 
Cham Island – Hoi An City Daily Tour
Da Nang – Cham Island Daily Tours
Cham Island Tours (2 days | 1night)
Cham Island Fishing Daily Tours
Cham Island Daily Tour – Group tour pick up at Da Nang

If confirm booking please send us the list includes: Name, date of birth, email address (if available) or mobile numbers to companies for buying insurance.
CONTACT
HOI AN ECO TRAVEL
Add: Cam Thanh, Hoi An, Quang Nam, Viet Nam.
Tel: 02356.25.83.83 - Hotline: 0916.52.8884
Email: hoianecotravel@gmail.com
Website: www.hoianecotravel.com
Cham Diving Cham DivingCham Diving Hoi An Cham Diving Hoi Ancham island fishingCham Island Fishing Daily Tourscham island fishing tourcham island hoi an fishing tourCham Island Hoi An TourCham Island tourFishing Cham IslandFishing tour at cham islandFishing tour cham islandhoi an fishing tour cham island
Let us know as your request
If the tour program does not your equest, please send to us your request information via contact email: hoianecotravel@gmail.com