Romantic Dinner on Thu Bon River
Hoi An Eco Tour with Romantic Dinner on Thu Bon Rive. The sunset time is also ideal time of the day as the sun makes less light and we can watch its shape before the night time. It is more amazing in water areas as everything becomes golden twinkle. Join with us to come to Cua Dai Estuary to discover the hidden life: a ferry is rushing to take people back home; a fisherman take time to do some last day work; some work to be ready for the night…all can offer you a collection of beautiful pictures. Let's find a different atmosphere for dinner on the river with some Hoi An specialty, grilled sea food cooked right on the Hoi An Eco tours boat.
Hoi An Eco Travel: Romantic Dinner on Thu Bon River
Departure Time: 1600hr (4:00pm)
Duration: 5 hours – Eco tour Hoi An boat
Tour Runs:Minimum 2 persons. Maximum on request
Contact: hoianecotravel @gmail.com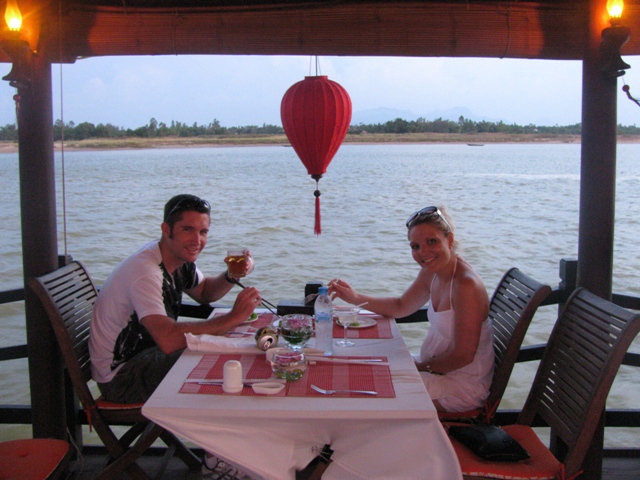 - 16:45: Pick up tourists at the hotel ( by bicycle or mini bus )
- 17:15: To be on board and boat to Cua Dai estuary
- 17:30: Observe scenes of some last moment of the day: ferry boat, fishing net… the tour guide talks about the life of people in the coastal area.
- 18:00: Try the fishing net with local fisherman and row basket boat to catch fish
- 19:00: Have dinner on Eco tours boat
- 20:00: Return your hotel
* The end of the Romantic Dinner on Thu Bon River - Hoi An Eco Tour thank you very much for join with us *
PRICE $35 / 1 Person
(Valid from Jan 1st, 2013 to Dec 31st, 2016)
- The tour is private
- All the prices are inclusive of tax
- Children under 5 F.O.C and from 6-12 half of the price
- Minimum 2pax and maximum 30pax/group
YOUR OUR PACKAGE INCLUDES:
- Transportation in Hoi An (Pick up & drop off)
- Tourist boat
- English speaking tour guide
- Farming activities
- Fishing activities
- Purified water and wet tissues during the tour
- Meal on boat with grilled sea food
- Entrance ticket in Tra Que Vegetable village
- Tourist insurance
CHILD POLICY & TOUR CONDITIONS:
- All of the eco-tours are excluded 10% VAT.
- In case of bad weather or unexpected reasons happened,booking tour for cancellation must be informed at least 2 hours in advance by phone, fax or email.
- No show of tour will be fully charged 100% according to the eco-tours's policy.
- Children under 4 years old is free.
- From 4 to 11 years old is charged as a half of price
- Children at 12 years old and over will be charged at adult rate.
- Rate is subject to change without prior noticement./.
Eco tour hoi an Viet NamEco Tours Hoi Aneco-tour hoi an Quang NamHoi An Eco Excursionhoi an eco tourHoi An Eco Tour with Romantic DinnerHoi An Eco TravelHoi An eco-tours