Time Open and Close in Hoi An Town
HOI AN NEWS - 

Time Open and Close in Hoi An Town
You may be very surprise why everyone has to walk in Town? Is it a rule or they like to walk or they wanted to keep the Town clean without vehicles' smoke? Or blab blab etc. It is a good question for you since exploring Hoi An.
Actually, Hoi An is a fabulous Town which is recognized by UNESCO year 1999. To ensure tourist have a full enjoyable experience during their stay in Hoi An. The Hoi An Government has launched the particularly rules Time Open and Close in Hoi An Town as below:
During the week there are certain times you are not allow riding your bike or electric bike in to the Old Quarter FROM MONDAY TO SATURDAY:
| | |
| --- | --- |
| TIME OPEN | TIME CLOSE |
| 01:00am  – 09:00am | 09:00am – 11:00am |
| 11:00am  – 15:00 | 15:00      – 22:00 |
| 22:00       – 24:00 |   |
Please noted in advance these  Time Open and Close in Hoi An Town, you can arrange suitable time for visit and enjoy the quite Quarter as wishes. However, you are allowed to ride the bicycle during time close. 
On the Time Close you will be feel how amazing the Old Town was!. It is so beautiful and gorgeous Town with many old pillar was made and carving by long time wood. 
Moreover, to ensure the safety for pedestrian as well as ventilation for walking pedestrian on Town, the Hoi An Government also planning in forbidding all cycles from 17:00 to 22:00 (dry season) and to 21:30 (rainy season) in order to ensure the safety of visitors as well as the open air. It will be apply in the schedule Time open and Close in Hoi An Old Town soon next year.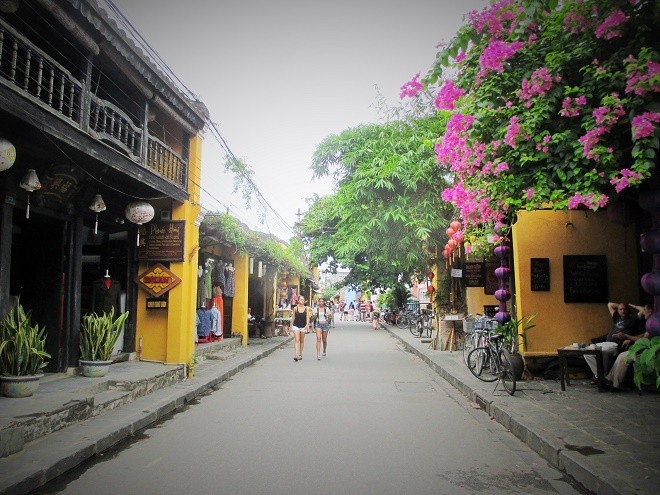 Walking Street in Hoi An Old Town
---
 Wish you enjoy your trip in Hoi An Old Town
Any further information please don't hesitate to contact us
---
[A]: Cua Dai – Hoi An – Quang Nam – Viet Nam 
[T]: 0235.3936.111– Fax: 0235.3936.111 – Hotline: 0905.22.33.43 Ms Van
[E]: van.hoianecotravel@gmail.com
[W]: www.hoianecotravel.com
Explore Hoi AnHoi An old townOld QuarterTime Open and Close in Hoi An Town