Travelling Handbook to Hoi An
Hoi An Ancient Town has gone inside tourist heart's with a very simple thing is: simplicity, ancient and peaceful. Hoi An is an alive museum, an old town has been recognized by UNESCO as World Cultural Heritage.
Hoi An, formerly known as FaiFo Town in the 16th and 17th centuries, was once a crowded commercial port, the trading center of Southeast Asia at that time. If you have been come here you will never forget these mossy roofs, ancient house with full of precious woods, elaborated pattern of pillar houses.
You will be amazed by a fabulous world, you seem be separated from all the flow busy life and rush life outside. No vehicles noise, no temptation of life, you seem live slowly with slow life. You are freelance to enjoy yourself by the old town with some beautiful destinations should not miss via travelling handbook below: 
SOME

SIGHTSEEING ATTRACTIONS

SHOULD VISIT

IN TOWN
---
 1. JAPANESE BRIDGE- The symbol of Hoi An
The 20,000 bill currently is using the image of the Japanese Bridge, which is considered as the world's cultural heritage.
Located across the creek flows into the Thu Bon River where bordering Nguyen Thi Minh Khai and Tran Phu Street. Japanese Bridge is an architecture of Japanese who came to Hoi An for business in the early years of 16 century. On the main gate of Japanese Bridge sculpture 3 characters are Lai Vien Kieu (mean bridge was built by far friends). Inside the Japanese Bridge has a small temple " Bac Đe Tran Vu" who is consider as the god of weather. People believe that he controls the weather changes and natural climates.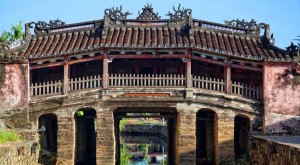 Japanese Bridge - located on Nguyen Thi Minh Khai Street
At one end of the bride is a sculpture of dog and the other side is a monkey. These two animals are symbol of sacredness in Japanese culture. Records also say the construction of the bridge was initiated in the dog year and finished in the monkey year.
2. PHUC KIEN ASSEMBLY HALL - A great example of the Chinese architecture
The legend is that, formerly the Assembly Hall is a temple of the sea goddess Thien Hau (the god surrendered to the business man over the sea without danger) was caught on Hoi An coast year 1697. Through many years renovation of the Phuc Kien Chinese members, the Assembly Hall becomes more and more attractive in Hoi An Old Town.
There are lots of animal symbols in the design and architecture of Phuc Kien Assembly Hall such as dragon, unicorn, phoenix, and turtle. These animals signify different features of Chinese culture. The dragon is symbol of power, turtle for endurance, unicorn for knowledge and phoenix for nobility.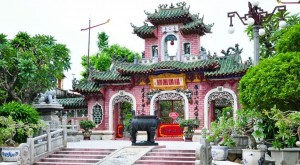 Phuc Kien Assembly Hall – Located on 46 Tran Phu Street
3. TRIEU CHAU ASSEMBLY HALL
It was built in year 1845 where celebrated community activities and beliefs of the Trieu Chau people.
The Hall worshiped the gods to overcome the weather power, also wish best luck for the business. The hall is an fabulous architectural frame with exquisite wood carvings, patterned wood decorations and folk legends and beautiful terracotta reliefs.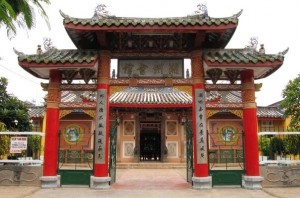 Trieu Chau Assembly Hall - Located on 157 Nguyen Duy Hieu Street
4. QUANG DONG ASSEMBLY HALL
It was built in year 1885 by Hoa Kieu Quang Dong (Chinese), formerly it is worship for god Mother of Thien Hau and Confucius. After year 1911, it was converted to worship the Quan Cong and Preah Bat Pagoda
Quang Dong assembly hall looks stately, with the harmonious use of wood, stone in bearing structure and ornate motifs. The beams are tall, finely carved, and splendid. The roof is shaped curve, many floors, and between floors are embossed multiple images according to the ancient legend.
 Every year on Nguyen Tieu Festival, Quang Cong's birthday (June 24th), there is a very hearty festival here and attract more attendees.
5. TRAN'S HOUSE OF WORSHIP
Tran's house of worship was built by a Tran's official( a big family from China immigrate to Hoi An in the 1700s) following to traditional Chinese and Vietnamese Geomancy principle. The house is to worship ancestor and family's relatives. Tran's worship house in Hoi An is an ancient Vietnamese- spirit worship house from thousand years still preserved in the form totally of the old architecture.
6. TAN KY OLD HOUSE
Built for 200 years ago, Tan Ky, ancient house located on Nguyen Thai Hoc Street retains the intact structure and architecture from the beginning structure construction. This is an interesting stop on the journey to discover the ancient features of Hoi An.
The house is a combination of Chinese, Japanese and Vietnamese architectural styles. The architectural style of "husband and wife" consists of two horizontal bars that overlap each other, representing for natural – human being, five vertical bars like five fingers, representing the Five Elements. The harmonious architecture of the house speaks to the dream of harmony between man and nature.
7. THE MUSEUM OF HISTORY-CULTURE
Established in 1989, the museum displays of 212 original artifacts and valuable materials by ceramics, copper, iron, paper, wood … reflect the stage of development of the urban-trading port of Hoi An from the Sa Huynh culture period (second century AD) to the Cham culture period (from the 2nd century to the 2nd century) and the culture of Dai Viet, Dai Nam (from the 15th century to the 19th century).
8. HOI AN HANDICRAFTS WORKSHOP
Hoi An handicraft workshop, located on 9 Nguyen Thai Hoc street, is a place to show of 12 traditional handicraft traditions of Hoi An, such as art pottery, carpentry, cages art lamp, hat cone, bamboo rattan, wooden mosaic, lacquer, spinning weaving, embroidery …You can buy so many beautiful gifts from these clever artisans in here.
SOME

BEAUTIFUL ATTRACTIONS

OUTSIDE TOWN
---
 Beach: It is far from the Town @ 3 km.
1. Cửa Đại Beach
It's better for you to come here in the spring, summer, autumn (it starts from Jan to September). It is consider one of the most beautiful beaches in Vietnam with smoothly yellow sand, clear blue water. It is an ideal place for you to enjoy sea food here by local people; they are both friendly and hospitality. At night, you will see the sparkling of romantic oil lamp; it is so fabulous in the immense beaches with cool fresh air.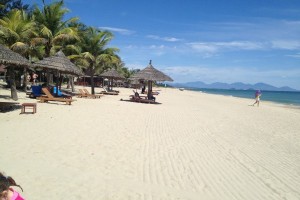 Cua Dai Beach – on Summer Days
2. An Bang Beach
the best place for whom want to sun bath in here on the day, you can free to lie down on the sun chair between the harmony of sun and beach. You cannot imagine how comfortable it is, just only you on the beach without disturbing outside. The vendor or restaurant is really to serve whenever you want.
It is a very special vegetable village for tourist only find in Hoi An. This village is famous for many kinds of vegetables: lettuce, salad, basil and coriander vegetable etc.., The village is named after the sweet scented vegetables that spice up the everyday meals of the Hoi An people. You are total safety when using these herbs without any nervous, because the farmers use neither manure nor chemical fertilizers, just only use seaweed for planting the herbs. Products sell well and are highly appreciated due to the freshness, good quality and safety.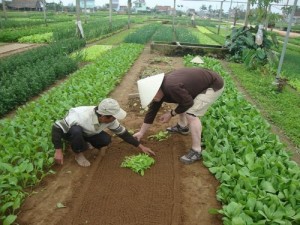 Tra Que Vegetable Village – Tourist experienced in planting vegetable
It will be a pity for you if miss this place. Tourist have chance to discover the beauty of fishing village. If you never ever try how to row the basket bowl, how to catch fish, let try it here. You will be very surprise how amazing of throwing the net for catch fish.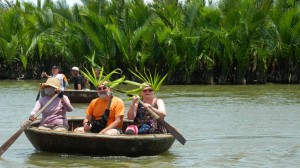 Rowing Basket Bowl – Cam Thanh Village
Tourist will go by the boat and go along the Thu Bon River for reaching to Bay Mau coconut forest to admire the scenery both sides of the river and the local people's living activities. You will be taught how to do the ring, hat, necklace etc. by coconut palm leaves and save all memories with this green beauty of coconut forest Cam Thanh.
Nowadays, there are so many modern machines to help the farmer in the field of Vietnam village, but buffalo is still indispensable to farmers. The image of hard-working buffalo, faithful is deep inside farmers' heart forever. It is not only a best worker, but also a best friend of farmers.
Let's join with the farmer and learn how to farming and watering buffalo. It is so interesting to discovery yourself with Hoi An Eco Tour.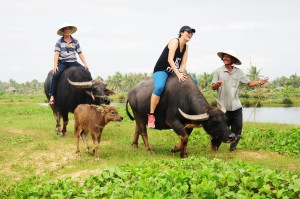 6. CU LAO CHAM (Cham Island)
Cu lao cham is known as the world atmosphere which was recognized by UNESCO. It consists of 8 islands with big and small ones to create peace and romantic in here. Cu Lao Cham is considered a green lung shielding Hoi An City when has storm coming. It is a gorgeous, charming sea with a beautiful beach. It is a best choice for you to try the fresh sea food in here. It is very cheap and amazing. Moreover, if you have license it is best place for you for diving, snorkeling, scuba diving ect.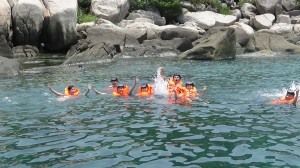 Cham Island – Fantastic scuba diving 
7. Kim Bong Carpentry Village
Kim Bong Carpentry Village is located on Cam Kim Village, it was appeared in the late of 15th century. Visit Kim Bong Carpentry Village, you have opportunity to see the carpentry workshop, directly see the talents artisan who created so many value products such as carving pillar with 1000 dragon's images and other products as carving on table, chairs, Buddhism status etc. Each product was created in a long time with all effort and enthusiasm of the artisans. It takes 10 minutes to get there by boat from the boat station of Hoi An old town.
8. Thanh Ha Pottery Village
Thanh Hà Pottery is flourishing during the 17th & 18th century. All products as Pots, scallops, jars, ect are using in every houses are from clay on Thu Bon River. The artisan also made curved tiles, red brick for the old house in Hoi An and neighboring areas.
Visiting Thanh Ha Pottery Village will be a chance for you to understand more about the tradition craft, observe the pottery production process through skillful hands of artisans in the village, and can make your own imaginative products as well.
---
 STREET FOOD IN HOI AN
One of delicious dishes where you can coincident sees on street in Town, you will not control your appetite and want to taste it immediately because of it smells. What is it?
1. Chicken Rice ( Cơm gà Hội An)
Different to other Chicken Rice dish with other region, Hoi An Chicken Rice does not bring the feeling of fullness but always create a feeling of craving. The rice was fried then boiled with chicken, torn small, squeezed with onions, herbs from Tra Quế Vegetable and spices show cuisine of the Central. Eating you will feel the natural sweet of chicken and fragrant aromatic in your mouth.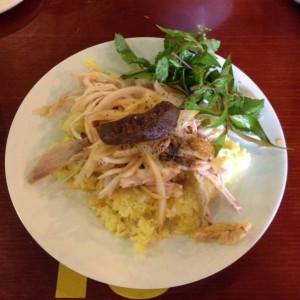 Ba Buoi Chicken Rice - 22 Phan Chau Trinh Street
Some famous chicken rice in Hoi An: Bà Buội, Bà Nga, and some along Phan Chu Trinh Street. It cost @ 40.000 đồng/dish chicken rice.
2. Bread ( Bánh Mì)
It can be said that Ms.Phuong Bread and Madame Khanh bread are the most typical names for Hoi An bread with variety of meat and special sauce. You will see a variety of meat, grilled, jam bong, pate, homemade sauce, chili, herbs of Tra Que village. All make a perfect cake that is hard to find anywhere else besides Hoi An. It cost @ 20,000 dong/bread. It is both cheap and delicious. There is no reason for you to skip bread when coming to Hoi An. Ms.Phuong Bread is located on Phan Chau Trinh St, you must line up & wait for your turn to buy it. 
3.Barbecue Pork (Thịt nướng)
You had to wait till 2 or 3 o'clock in the afternoon to taste this dish. If you want to enjoy it gently, can do step by step with firstly use rice paper, mì lá, raw Trà Quế vegetable, grilled pork, roll all together and dip in the homemade sauce then enjoy. Wow! a great feeling cannot describe. if not, you can immediately just hold the grill pork stick still hot from barbecued stove coal and eating, it may burn your mouth, but taste may not necessary to discuss. It is so amazing. Oh my god!!! It takes @ 5.000 đong/stick near Japanese Bridge.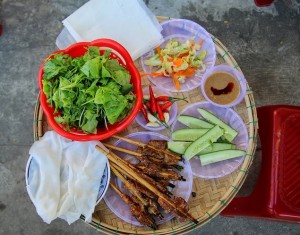 Barbecue Pork – Thit nuong Hoi An
4. Cao Lau
Once come to Hoi An, you absolutely have to try Cao Lau which is considered specialties of Hoi An dishes. It is made extremely complicated is that the water to make Cao Lau must be get from the water of Ba Le Well. Cao Lau doesn't need broth, but replace for special sauce from sautéed pork with soya and greasy taffy. To make sautéed pork, must choose tenderloin pork, marinated spices and flavors. Each Cao Lau take @ 30.000 đồng/bowl.
5. Quảng Noodle ( Mì Quảng)
Mi Quang is one kind of noodle. It makes from noodle with grated rice flour and thinly sliced, then slice into thin noodles about 2mm thick. Quảng Noodle enjoy with raw vegetable, pork, shrimp, chicken combine with broth stewed from the bones. This dish also add dried bean, roasted parsley, chop green onions, herbs, peppers. Let taste it, so amazing.
6. Pancake ( Bánh xèo)
Banh Xeo is considered the fantastic snack food in Hoi An in the cold season. For the reason is that in this season, can catch a lot of shrimp and it quality is so good and sweet, and shrimp also the main ingredient for pancakes. It will be more delicious if has just take out from the hot pan and use your hand to eat, not use chopsticks or forks. Wow! Dip the pancake roll in the bowl of sweet and sour fish sauce, how flavor it is! It
7. Ice Cream tube
Unlike to other type of ice cream, Hoi An Ice cream tube is very special, it would be very interesting to feel cold as well as sweetness on your tongue. The Ice cream is made in a small aluminum tubes which is called tube ice cream.
Hoi an Lozi Ice Cream
Because of it light sweet, it is easily make sense for both adults and children. It has many flavors like chocolate, coconut milk, strawberry, durian, green bean etc.
SEA FOOD
It can say that sea food in Hoi An is so good in quality, it both fresh and cheap. There are variety types such as clam, fish, crab etc. It is better for you to join the sea food on Cưa Dai Beach, along Lac Long Quan Streets. There are many local restaurants with suitable price for you to enjoy dinner in here.
---
 SHOPPING
1. Tailoring
Hoi An is famous for tailoring. It takes @ 2 or 3 hours to sew a dress, suit, shirt etc. You are definitely no worries about the quality. All the products was made by the long times experience tailors. They did very professional in each seam without any mistakes. Most of famous tailor shop in Hoi An has many years' experience in tailoring, they herniate this business from generation to generation. There are many reputation tailor shop in Town such as Yaly, Tuong Tailor, and in Town.
2. Lantern
Please don't forgot to buy lantern gifts to your friends or relatives, it has many sample with variety shape for you to choose. Many supplier come to Hoi An and buy lantern to their country for decoration the hotel and resorts as their concepts, thus, There is no reason for you to skip lantern when coming to Hoi An.
3. Souvenir shop
You can buy some handmade gifts such as: ceramic gifts, Copper statue, Carvings, Key lock, Greeting card, silk products. These gifts are very useful and meaning for your friends or relatives. Each gift was come from different traditional workshop village.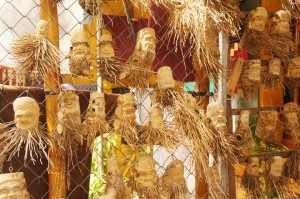 Human face carved on Bamboo roots
---
 TRANSPORT 
1. Plane
An international Airport base on Danang which is 27 km far from Hoi An. You can book flight ticket via Vietnam Airlines or international air ticket company.
2. Car
There are many car services for your choice. If you like private car 4 seat or 7 seat or van from airport to Hoi An, you can book in advance with cheap price from 300.000-500.000 Vnd at Central car for rent
3. Taxi
It is quite a little bit expensive more than private car, it is @ 500.000 dong,  but it is very convenient for you to catch up from airport. There are many branches of taxi such as: Mai Linh Taxi, Sông Hàn, Masco, ect.
4. Car/ Train to other city
You can buy ticket from some travel agent in town or directly buy at booth of car or train station. The price always post on the public rate. You are no longer worries for it.
---
 HOSPITAL
1. Hoi An Hospital
It managed by the government and located on Tran Hung Dao Street. Normally, local people come here for treatment.
2. Pacific Hospital
It is prefer expat more because the doctor can speak English. The fee is quite high for any service. 
---
 Some

useful phone numbers

should be known

in Town
√ Hoi An City Police: 0235 3861204
√ Hoi An Post Office: 0235 3861635
√ Hoi An Hospital: 0235 3864750
√ Taxi Hoi An: 0235 3919919
√ Travel consultant: 0235 3910919
To get Vietnamese visa, foreigner tourist, can register online with simple steps to receive" approval letter" from Vietnam Immigration Department, then getting visa at the airport.
---
 Wish you enjoy your staying at Hoi An Heritage Town.
For more details without fee, please contact us at 
---
 HOI AN ECO TOUR – HOI AN DAILY TOURS – EXPLORING HOI AN TOURS
[A]: Cua Dai – Hoi An – Quang Nam – Viet Nam 
[T]: 0235.3936.111– Fax: 0235.3936.111 – Hotline: 0905.22.33.43 Ms Van
[E]: van.hoianecotravel@gmail.com
[W]: www.hoianecotravel.com
Cu Lao ChamCuisinCultural HeritagesFarming & Fishing Village - Hoi An Eco Tourhoi anHoi An TownShoppoingsightseeing attractionsstreet foodtourstransportationtraveling handbookvisa