Hoi An Eco Tour: Discover Cham Island
Hoi An Eco tour with Cham Island with 7 small islands, nowadays Cu Lao Cham are the good places with fresh environment. Speed boat to Cham Island "Cu Lao Cham" is a large island consists of server small islands distance 25 nautical miles off the coast from Hoi An. At the summer, if guests reaches for the island by normal boat, it takes 2 and half hour. But only 30 munites by speed boat. Cham island has total 7 islands including Hon Lao, Hon La, Hon Kho me, Hon Kho at the area of 16 sq.meter, whereby the largest island is Lao. Lao island is circle shape at the high of 500m, the forest here is natural, a lot of woods and rare animals. There are nice beaches at Bim and Ong beach. The island is a place where shelter for value swallow birds.
√ Code: Hoi An Eco Tours - Cham Island tours
√ Departure Time: 08h00 am 
√ Finish time: 14h30 pm
√ Tour Runs: Minimum 2 persons. Maximum on request
√ Contact: van.hoianecotravel @gmail.com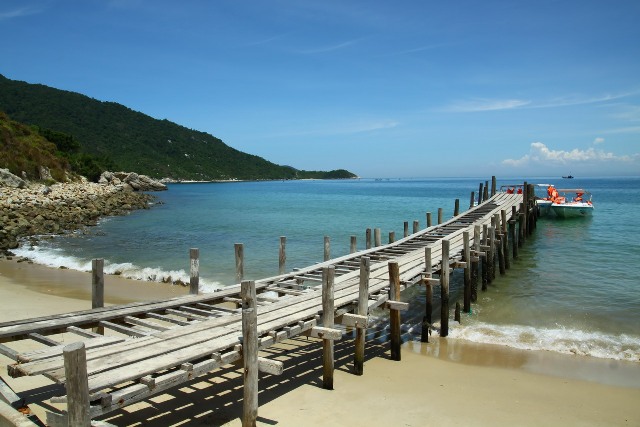 ITINERARY
Around the island has alots of color corals under the water, about 3.000 residents living focusing at Lang and Huong beaches as fishing and agriculture. A small part of people living at the village works at service and handicraft.
The tour takes half day to Lang beach for seeing some interest places as such Au Thuyen a shelter for boats at bad weather, an over-100 years Hai Tang pagoda remarks the Buddhism came here for long time ago, Ong temple a place worships a big fish buried here.
Morning times Depart from Hotel at 07:30 then arrive at Cua Dai Beach & embark on the Boat for Cham Island. Exploring Cham island by foot is one of the best ways to absorb the beauty of local life on main island, visit Hai Tang Pagoda & Bai Lang Fishing Village.Snorkeling and Swim & Sun-bath at Bai Chong.You have for lunch is great seafood meal served -15:00 Back to Hoian. The end of Hoi An Eco Tour: Discover Cham Island
PRICE:

1,200,000

= $55 | 1 Person
Inclusions:
√ Hotel pick-up and return
√ Minivan, entrance fee
√ Mineral water
√ Lunch
√ English speaking tour guide
√ Travel insurance
√ Free for children 0-5 years old
√ 50% off for children 6-10 years old
Exclusions:
√ 10% VAT
√ Tips and gratuities
√ Personal expenses such as: shopping, telephone, beverage, etc.
TOUR PRICE FOR CHILDREN
√ Children under 5 years old: 10$ 
√ Children from 5 – 9 years old: 75% of the fare.
√ Children over 10 years old charged as an adult.
Cancellation charge:
√ Before 15:00 on the previous day of the departure day: charge 50% of tour cost
√ After 15:00 on the previous day of the departure day/no-show: charge 100% of tour cost
Cham IslandCu Lao Chamhoi an eco tourHoi An Eco Tour: Discover Cham IslandHoi An Eco TravelHoi An excursionsHoi An tourshoi an travel