The half-day Hoi An wet rice tour is designed by Hoi An eco tour, to show you the sequence of rice cultivation and how local Vietnamese farmers grow rice in rice fields.
In addition, you can also participate in farming activities and learn more about Vietnamese farmers. You will become a true Vietnamese farmer and have unforgettable moments and emotions!
Join local farmers in the rice fields.Learn how to plow, sow…It depends on the season, but rice farming is a year-round process, there's always something to do. During your time in the field, chat with the farmers and learn more about Vietnam's fascinating rice farming.
Featured tours
Seesighting the rice fields of Cam Thanh, Hoi An
Get to know Hoi An farm culture
Cycling through a village.
Communicate with locals farmers
Enjoy the natural water coconut fruit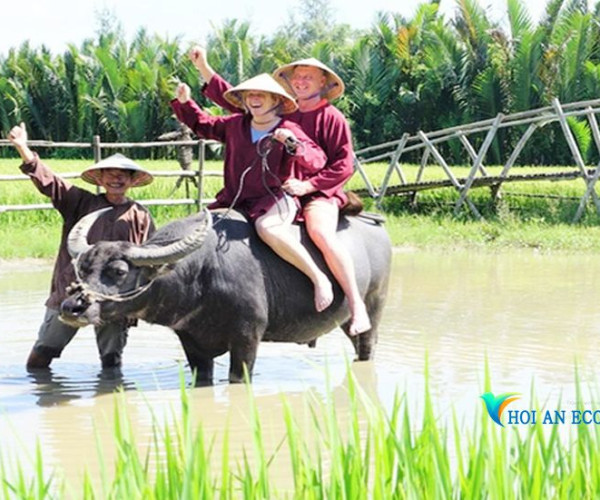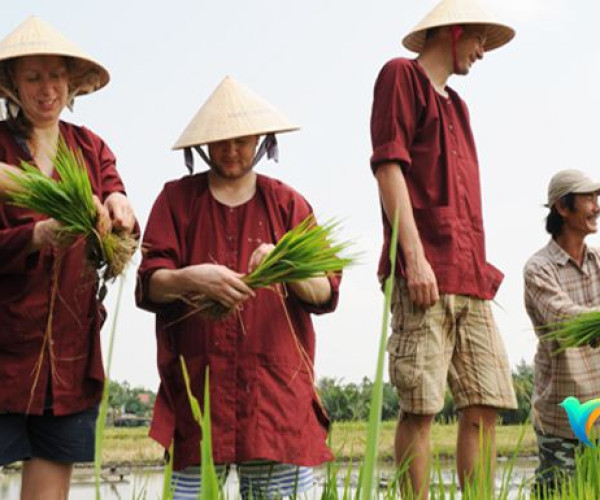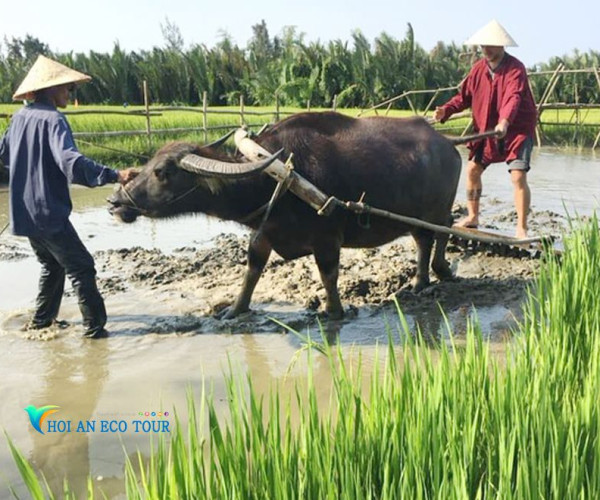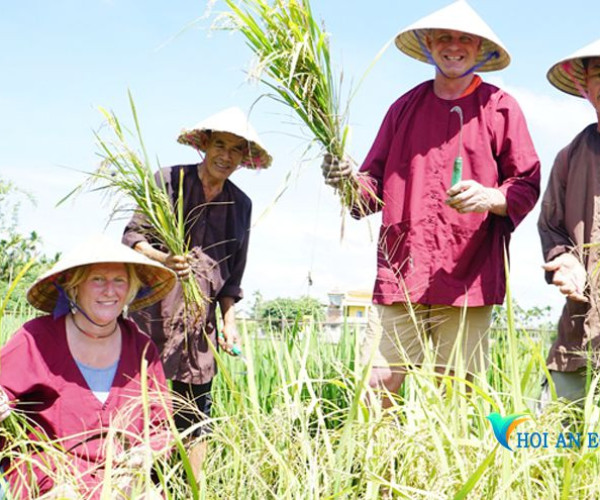 Tour start time from 09:00 - 17.00 (depending on season and your hotel location)
Duration: 2.5-03 hours

Applies to a group of 02 adults or more
Journeys
Hoi An Wet Rice Growing Daily Tour Half Day Experience

09:00

Bicycle and local Hoi An eco tour guide picks you up at your hotel. S

tart biking to the Cam Thanh palm coconut Village

10:00

Upon arrival at Cam Thanh village, you will be greeted by friendly local farmers . Enjoy a peaceful time in the rice fields, chatting about ordinary local agricultural life.

10:30

You will have the opportunity to experience a farmer's uniform, Vietnamese conical hat, cart..., before entering the local rice fields. Followed by tour guide explaining how to plant and grow wet rice.

11:00

Then it's time to roll up your sleeves and start farming, learn how to grow wet rice with the help of buffalo plows and agricultural irrigation systems, and transplant the rice into the fields.

11:45

Finally, you'll enjoy a buffalo ride before returning to a local farm for a local meal.

12:00

Have lunch with local foods at the famer house

13:00

The tour guide drop off you back to the Hoi An Hotel. The end of the

 Hoi An Wet Rice Growing Daily Tour Half Day Experience

Group up 5 pax please contact Hotline: 

0916.52.8884 (Mr Smith)

 for special price

(Applies to a group of 02 adults or more)
Price per adult / Unit: VND
Number of pax
01
02
03-04

Price

1.200.000
900.000
800.000
Note: The tour applies to a group of 02 adults or more
Tour Including
Bicycle or car drop off and see off at the hotel
All visiting tickets
Light meals
Agricultural activities (planting seedlings, riding buffalo)
Farmer uniforms (clothes, conical hats, boots, gloves)
Local driver guide with good care and friendly
Water (1 bottle 0.5ml)/ person / day.
Tour Excluding
Tips for waiters, tour guide, drivers.
Other personal expenses
Tour price for children
Child is under 05 years old at free of charge
Child from 05-10 years old at 50% price of adult
FOC policy: 01 FOC for 16 paying pax (17 – 1) & maximum 02 FOC per group
What your should bring?
Big hat or Umbrella
Sunglass
Camera with full battery
Short
T-Shirt
What your should not bring?
Credits card
Valued belongings
The order of attractions in the Hoi An eco tours program can be flexible changed to suit the journey time, but still make sure the route program for you.
Groups over 10 guests we will organize a private tour or group tour according to the actual situation but still ensure the quality of service and program does not change.
Refund 100% of the fee if the weather is affected or the political situation is unstable.
Hoi An eco tours PACKAGE is a package tour (personal expenses outside the program, you pay yourself)
Hoi An eco tours Program can be flexible changed according to the actual situation, but still ensure the tour programs for you.
On the Public, New Year holidays, surcharge 30% of tour price
If confirm booking please send us the list includes: Name, date of birth, email address (if available) or mobile numbers to companies for buying insurance.
CONTACT
HOI AN ECO TRAVEL
Add: Cam Thanh, Hoi An, Quang Nam, Viet Nam.
Tel: 02356.25.83.83 - Hotline: 0916.52.8884
Email: hoianecotravel@gmail.com
Website: www.hoianecotravel.com
hoi an eco tourHoi An Wet Rice Growing Tour
Let us know as your request
If the tour program does not your equest, please send to us your request information via contact email: hoianecotravel@gmail.com