Tours Tet In Hoi An – Hoi An Tet Holiday Tours
It will be a very lucky to tourist who come to Hoi an to enjoy Tet Holiday, on this occasion we have lots of special activities for you to join, it also a good opportunity for tourist to experience Vietnamese Tet holiday in Hoi An Heritage Town – a Cultural World Heritage was recognized by UNESCO
We have so many interested tours for you to join, let discover our valuable tours via TOURS TET IN HOI AN – HOI AN TET HOLIDAY TOURS
® FISHING TOUR AND HOI AN CITY TOUR
It's not only exciting in how to throw the net for catching fish, row the basket bowl, but also amazing in watching the attractive performance basket bowl by the local person at Bay Mau Coconut Palm Forest, a historic firm shelter for revolutionary forces before. Moreover, tourists have chance to discover Hoi an Old Town where has many interesting activities on Tet or TOURS TET IN HOI AN – HOI AN TET HOLIDAY TOURS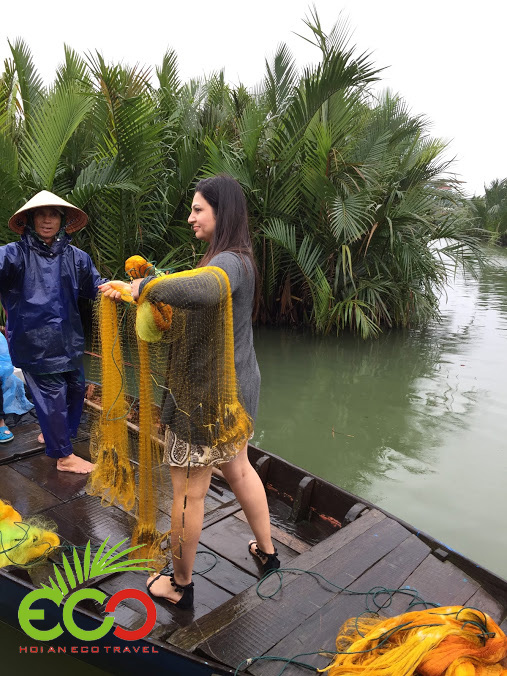 ® FARMING AND FISHING DAILY TOURS
It provides you with a close-up and intimate exposure to both the local farming and fishing communities. Accompanied by your tour guide, you commence the day leisurely cycling along country roads witnessing local Vietnamese rural life first hand, discovering all manner of photo opportunities – maybe a water buffalo working in a rice paddy field; colorful roadside market stalls or farmers tending their crops. The photo opportunities are endless. As well you will experience the friendliness of the local people greeting you along the way. 
You will board our Hoi An Eco Tour basket boat for a river cruise to meet and engage with local fishermen and enjoy a hands-on experience of traditional net fishing. You will also experience paddling the unique Vietnamese bamboo basket boat while exploring coconut-palm flanked waterways. This tour provides you with a cultural window into the ways of life of both our farming and fishing communities.
Tra Que Vegetable Village is one of the most green, clean vegetable from the past till now. Its taste cannot be compare with anywhere else in Vietnam because of its unique planting. It uses neither manure nor chemical fertilizers, just only use seaweed from Co Co's River lagoon for planting the herbs.
To understand more reason Tra Que Vegetable special. You will discover with us via Tra Que Vegetable Village Tour as programs: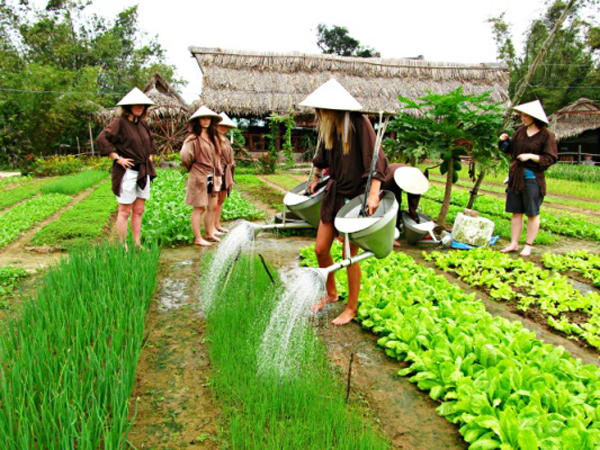 ® BAY MAU COCONUT PALM FOREST TOUR
You will have real experience about Vietnamese local activities in dancing, singing together on the basket bowl, how interesting it is, you seem be yourself in harmony with the local people in free dancing without thinking anymore about the busy life outside as well as the stuff life we face to everyday. It is the good chance to who love freedom, harmony with the nature and surrounding peaceful environment. Moreover, we also have many other activities on the coconut palm forest such as fishing, throw the net to catch fish, racing basket bowl, listening the Quang Nam folk song. It is a vividly place with many meaningful activities for you to explore. 
® TOUR DA NANG – HOI AN DAILY GROUP TOUR
A tour discovers Da Nang, a modern city which river inside the city and surrounding area is golden shining sand with a long beach. Local people are friendly and helpful. Da Nang is developing every day, it still keeps almost the culture and historic sites. Da Nang deserved with a slogan," a city deserve to live". It is both safety, peaceful for tourist to visit, and meaningful since their stay in Da Nang. In Contrast to Da Nang, Hoi An is so attractive with many sightseeing sites. Hoi An is an ancient Town was recognized by UNESCO for its cultural Heritage. Inside Town and outside Town, there are many attractions for tourist to visit, please see more…. .  You will be very happy in discovering Tour Da Nang Hoi An with Hoi An Eco Tour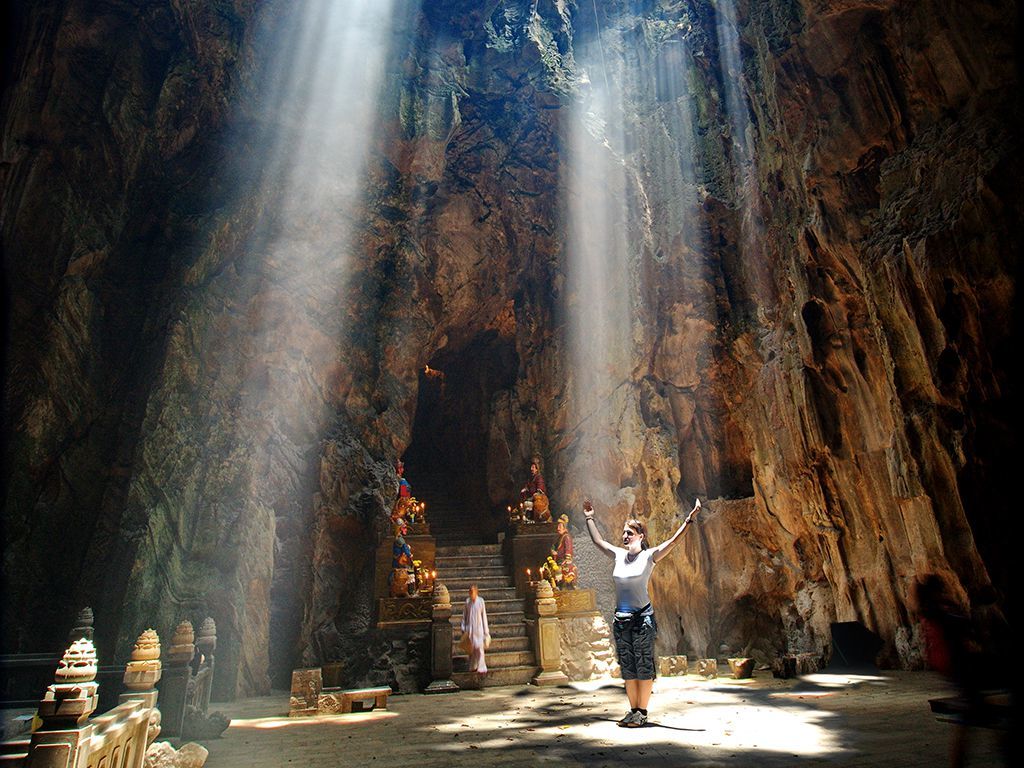 My Son Sanctuary, a unique culture on the coast of contemporary Vietnam, owing its spiritual origins to the Hinduism of India during the 4th to 13th centuries. This is graphically illustrated by the remains of a series of impressive tower temples in a dramatic site that was the religious and political capital of the Champa Kingdom for most of its existence. Let's  Hoi An Daily Group Tours take you to discover its history mystical legend
Cham Island Snorkeling is an interested activities since tourist come to Cham Island, they are not only snorkeling, diving, scuba diving, but also discover the colorful fish, and stunning coral reefs. Tourist will be admire the sincere of the most beautiful Island in Hoi An which is recognize by UNESCO as the world's atmosphere with lush forest, stunning beach. It consists of 8 small islands with a natural beauty of blue sea, white sand, sunshine. You also can enjoy fresh seafood, visit peaceful village and old pagoda. The local is both friendly, hospitality and helpful. Cham Island is an ideal place for tourist to overnight in here as well. It is absolutely safety to you sleep outside beach or in the local home stay.
TOUR PRICE     
Pick up and return at Da Nang:          55 USD/ Pax
Pick up Hoi An – Return Da nang :    45 USD/ Pax
Pick up and return at Hoi An:             42 USD/ Pax
---
 INCLUDED SERVICES:                                                                                  
√ Car                                                                                                         
√ Speed boats                                                                                       
√ Visiting Tickets
√ Lunch with specialties seafood
√ Guide
√ Water (1 bottle 0.5 liter)/ person / day.
√ Travel insurance: maximum 20,000,000 /person 
EXCLUDED SERVICES:
√ Tips for waiters, tour guides and drivers. 
√ Other personal expenses. /. (sun cream, hat, bikini etc.)     
TOUR PRICE FOR CHILDREN:
√ Children under 05 years: free (insurance charge 10 Usd/child).
√ Children from 5 years old to 10 years old: ++ 75% price
√ Children over 10 years old: 100% of the tour as adults.
---
 Wishes you enjoy the tour with us!
Any further information please don't hesitate to contact us
---
[A]: Cua Dai – Hoi An – Quang Nam – Viet Nam 
[T]: 0235.3936.111– Fax: 0235.3936.111 – Hotline: 0905.22.33.43 Ms Van
[E]: van.hoianecotravel@gmail.com
[W]: www.hoianecotravel.com
Cham Island snorkelingFarming and Fishing Hoi An Eco TourHoi An Tet Holiday ToursMy Son TourTours Tet in Hoi anTra Que Vegetable Village Daily Tours