Tra Que Vegetable Village
Tra Que Vegetable Village is one of the most green, clean vegetable from the past till now. Its taste cannot be compare with anywhere else in Vietnam because of its unique planting. It uses neither manure nor chemical fertilizers, just only use seaweed from Co Co's River lagoon for planting the herbs.
Tra Que Vegetable Village provide a large quantity herbs around Hoi An and surrounding Danang area. To understand more reason Tra Que Vegetable special. You will discover with us via Tra Que Vegetable VillageTour as programs: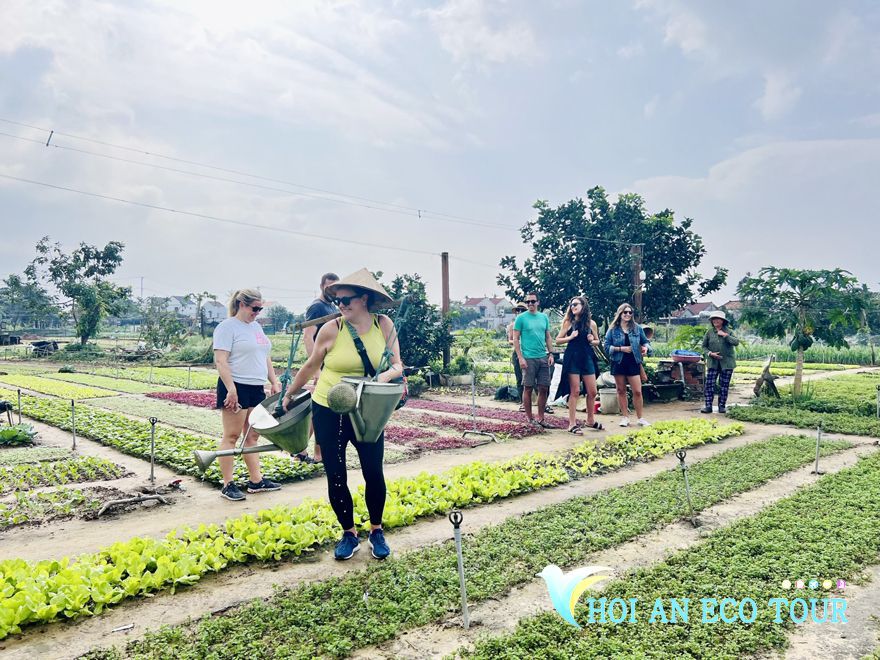 √ Tour code: Hoi An Daily Tours – Tra Que Vegetable Village
√ Pick up: Hotel at Hoi An Town
√ Destination: Tra Que Vegetable Village
√ Mean: Bicycle | Car
√ Tour: Hoi An Daily Tours
√ Departure time: 08:00 Am – 2:00 Pm
ITINERARY
08:00 Pick up at the hotel's lobby and start the tour with guide.
08:15 On the way to Tra Que Vegetable Village we will ride bicycle to visit Hoi An colorful central market. In here you will have chance to interact the local sellers and learn about the ingredients to be used cooking lesson later and make sure your camera is handy.
09:00 Continue biking to Tra Que Vegetable Village where we will be introduced about its historical, the vegetable production (see the tools used for farming: hoes, shovels, planks, rake, watering droplets …), see the vegetable samples, its useful and medicinal in use.
09:30 You will be visit the Tra Que Vegetable Village which is famous for green and clean, then go to the garden to make the soil, fertilize with seaweed picked from Tra Que. Continuing to do the steps: rake soil, to bed, watering, vegetables, vegetables, introducing ways to prevent pests during the development of vegetables.
10:30 You will be relaxing by soaked feet in the local medicinal herbs to help you relieve some disease such as rheumatism.
11:00 Join in cooking class in the restaurant with the chef instruction how to learn and make Vietnamese traditional food. You will enjoy the lunch with dishes you had prepared with the chef.
13:00 You will go to the garden and learn how to harvest the vegetable and punch it to the market for sale.
14:00 Finish the Tra Que Vegetable Village and back to the hotel
PRICE:

 700.0000

Vnd|Pax = $35
(Applies to a group of 02 adults or more)
SERVICES INCLUDED
√ Tour guide.
√ Bicycle services.
√ Foot massage. 
√ Cooking course.
√ Lunch or dinner.
√ Mineral Water. 0.5l/pax.
TOUR PRICE FOR CHILDREN
√ Children under 5 years old: FOC.
√ Children from 5 – 9 years old: 50% of the fare.
√ Children over 10 years old charged as an adult.
Wishes you enjoy the tour with us!
Any further information please don't hesitate to contact us
---
HOI AN ECO TOUR
– HOI AN DAILY TOURS
 – EXPLORING HOI AN TOURS
[A]: Cua Dai – Hoi An – Quang Nam – Viet Nam 
[T]: 0235.3936.111– Fax: 0235.3936.111 – Hotline: 0905.22.33.43 Ms Van
[E]: van.hoianecotravel@gmail.com
[W]: www.hoianecotravel.com
Cooking classdiscover Hoi AnEXPLORING HOI AN TOURSHoi An Daily Tourshoi an eco tourTra Que Vegetable villageTra Que Vegetable Village Daily Tours