Tra Que Village is an agricultural district in Vietnam that still uses ancestral methods to produce Vietnamese crops  a peaceful oasis, with intense lush green colors, where plants grow in neat Have you ever heard about this place, from Hoi An to Tra Que in Vietnam . It's a must-see if you're in the area and it's only about 20 minutes away by bike  but pretty much a completely different (and more tranquil) world
Tra Que Vegetable Village is one of the most green, clean vegetable from the past till now. Its taste cannot be compare with anywhere else in Vietnam because of its unique planting. It uses neither manure nor chemical fertilizers, just only use seaweed from Co Co's River lagoon for planting the herbs.
Tra Que Vegetable Village provide a large quantity herbs around Hoi An and surrounding Danang area. To understand more reason Tra Que Vegetable special. You will discover with us via Tra Que Vegetable VillageTour as programs: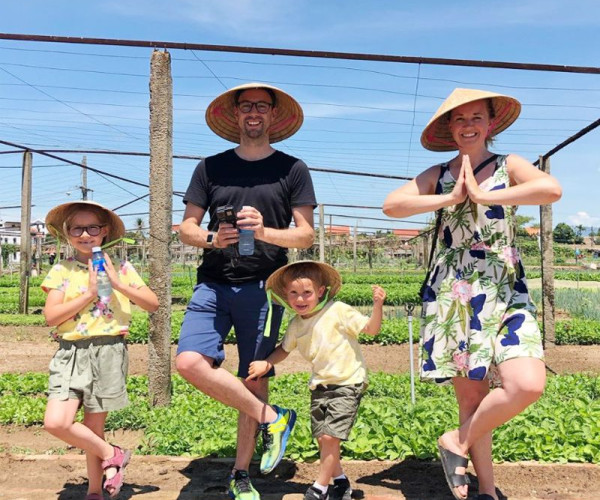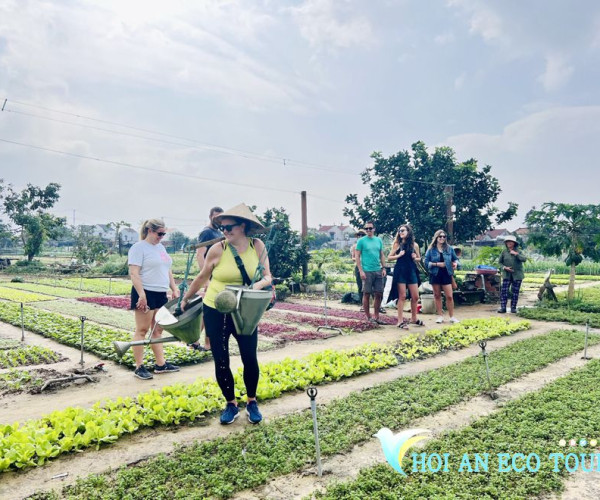 Journeys
Tra Que Vegetable Village 
08h00

Pick up at the Hoi An hotel's lobby and start the tour with guide by Car or Bicycle

08h15

On the way to 

Tra Que Vegetable Village

 we will ride bicycle to visit Hoi An colourful central market. In here you will have chance to interact the local sellers and learn about the ingredients to be used cooking lesson later and make sure your camera is handy.

09h00

Continue biking to Tra Que Vegetable Village where we will be introduced about its historical, the vegetable production (see the tools used for farming: hoes, shovels, planks, rake, watering droplets …), see the vegetable samples, its useful and medicinal in use.

09h30

You will be visit the 

Tra Que Vegetable Village

 which is famous for green and clean, then go to the garden to make the soil, fertilize with seaweed picked from Tra Que. Continuing to do the steps: rake soil, to bed, watering, vegetables, vegetables, introducing ways to prevent pests during the development of vegetables.

10h30

You will be relaxing by soaked feet in the local medicinal herbs to help you relieve some disease such as rheumatism.

11h00

Join in cooking class in the restaurant with the chef instruction how to learn and make Vietnamese traditional food. You will enjoy the lunch with dishes you had prepared with the chef.

 13h00

You will go to the garden and learn how to harvest the vegetable and punch it to the market for sale.

 14h00

Finished the 

Tra Que Vegetable Village Tour 

and back to the hotel

 Group up 5 pax please contact Hotline: 0905.12.12.43 (Mr Smith) for special price

$35 USD = 800,000 VNĐ /1 pax

Applies to a group of 02 adults or more)
Tour price for children
Children Under 9 years old: ++ 75% price
Children over 10 years old: 100% of the tour as adults.
 Tour including
Free pick up and drop off at the Hotels | Resorts in Hoi An
Visiting Tickets
01 Local of Beer on lunch meal 
Lunch with specialties seafood (Cooking Class as your request)
Local guide with good care and friendly 
Water (1 bottle 0.5ml)/ person / day.   
Tour Excluding
Tips for waiters, tour guides and drivers.
Other personal expense.
What your should bring
Sunbath protection & Lotion 
Big hat or Umbrella
Sunglass 
Camera with full battery
Short
T-Shirt 
What your should  not bring
Credits card
Valued belongings 
The order of attractions in the 

Hoi An Daily Tours

 Program can be flexible changed to suit the journey time, but still make sure the route program for you.

Pregnant women over 6 months, spinal cord injury visitors, cervical discharge, myocardial infarction, heart disease will not be allowed to join in this program for themselves safety.

Groups over 10 guests we will organize a private tour or group tour according to the actual situation but still ensure the quality of service and program does not change.

Refund 100% of the fee if the weather is affected or the political situation is unstable.

Do not throw garbage, litter in public places or plastic bottles into the river

Hoi An Daily Tours PACKAGE

 is a package tour (personal expenses outside the program, you pay yourself)

Hoi An Daily Tours

 Program can be flexible changed according to the actual situation, but still ensure the tour programs for you.

On the Public, New Year holidays, surcharge 30% of tour price.
Hoi An Daily Tours see more at: 
CONTACT
HOI AN ECO TRAVEL
Add: Cam Thanh, Hoi An, Quang Nam, Viet Nam.
Tel: 02356.25.83.83 - Hotline: 0916.52.8884
Email: hoianecotravel@gmail.com
Website: www.hoianecotravel.com
Cooking classEXPLORING HOI AN TOURSHoi An Daily Tourshoi an eco tourtra que vegatable village cooking classTra Que Vegetable villageTra Que Vegetable Village Daily ToursTra Que villagetra que village bike tourtra que village cooking classtra que village hoi antra que village restauranttra que village viet nam
Let us know as your request
If the tour program does not your equest, please send to us your request information via contact email: hoianecotravel@gmail.com