Behind delicious Hoi An dish is an equally fascinating story. Hardworking farmers, dedicated chefs, and many others are an important part of Quang cuisine. Tra Que vegetable cooking class will help you taste the local flavors, and reveal the secrets of how to make unique dishes.
Hoi An is known as a foods paradise, with many international famous dishes such as: Chicken rice, Cau Lau, Quang Noodles, Vietnamese bread and many street food. Tra Que village cooking class is a great opportunity to visit the local market, buy fresh ingredients and cook traditional Vietnamese foods.
You'll became to local farmer, visit a beautiful vegetable garden and the chance to explore and experience local life. Curious about the tour experience? Please to see the itinerary below!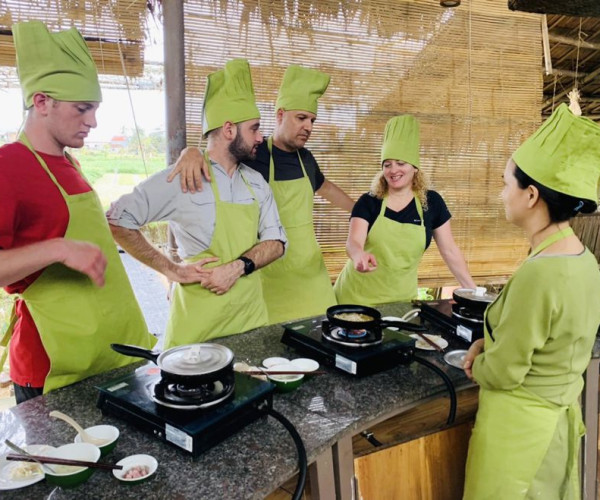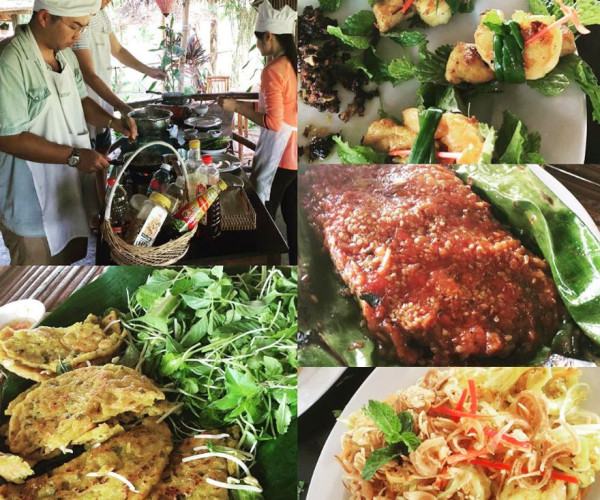 Tour code: Tra Que Hoi An Cooking Class
Pick up: Hotel at Hoi An
Destination: Tra Que Village
Transfer by: Car or Bicycle
Departure time: 09h00 Or 14h30
Journeys
Hoi An Tra Que Vegetable Village Cooking Class
09h00
The tour guide and driver will pick you up hotel lobby in Hoi An. We will then take you to go to the local market, buy some ingredients to make local foods
09h30
15-minute bike ride to Tra Que Village. The staff server you welcome drink (ginger tea, coffee, kumquat juice
10h00
Go to Tra Que Garden for making farming with local peoples
11h00
Arrive at the local restaurant and start cooking class with beautiful gardens
11h15
Cooking class at the restaurant with local chef. You will learn traditional methods of preparing and cooking Vietnamese foods
12h30
Enjoy lunch with your foods. Take relax
14h00
We will transfer you back to your hotel in Hoi An

Group up 5 pax please contact Hotline: 0916 52 8884 (Mr Smith) for special price

$34 USD = 800,000 VNĐ /1 pax

(Applies to a group of 02 adults or more)
Tour price for children
Children Under 9 years old: ++ 75% price

Children over 10 years old: 100% of the tour as adults.
Tour including
Local guide
Visiting Tickets
High quality cars or bicycle
Cooking class
Welcome drink
Lunch meals
Mineral water (1 bottle 0.5ml)/ person / day.      
Tour Excluding
Tips for waiters, tour guide, drivers.

Other personal expenses
What your should bring?
Sunbath protection & Lotion

Big hat or Umbrella

Sunglass 

Camera with full battery
What your should not bring?
Credits card

Valued belongings
The order of attractions in the 

Hoi An Daily Tours

 Program can be flexible changed to suit the journey time, but still make sure the route program for you.

Pregnant women over 6 months, spinal cord injury visitors, cervical discharge, myocardial infarction, heart disease will not be allowed to join in this program for themselves safety.

Groups over 10 guests we will organize a private tour or group tour according to the actual situation but still ensure the quality of service and program does not change.

Refund 100% of the fee if the weather is affected or the political situation is unstable.

Do not throw garbage, litter in public places or plastic bottles into the river

Hoi An Daily Tours PACKAGE is a package tour (personal expenses outside the program, you pay yourself)
Hoi An Daily Tours Program can be flexible changed according to the actual situation, but still ensure the tour programs for you.

On the Public, New Year holidays, surcharge 30% of tour price.
Hoi An Daily Tours see more at: 
If confirm booking please send us the list includes: Name, date of birth, email address (if available) or mobile numbers to companies for buying insurance.
CONTACT
HOI AN ECO TRAVEL
Add: Cam Thanh, Hoi An, Quang Nam, Viet Nam.
Tel: 02356.25.83.83 - Hotline: 0916.52.8884
Email: hoianecotravel@gmail.com
Website: www.hoianecotravel.com
Tra Que Hoi An Village Cooking Class 1 Day ToursTra Que villagetra que village cooking classTra Que Village Cooking Class 1 Day Tours
Let us know as your request
If the tour program does not your equest, please send to us your request information via contact email: hoianecotravel@gmail.com