Hoi An Eco Tours – Hoi An Daily Tours: Cam Thanh Coconut Village is a small village located just a few km from east of Hoi An town. The village is known with coconut groves and its unique bamboo basket boat tours.
One of the most popular activities in Cam Thanh Coconut Village is the bamboo basket boat tour. This tour takes you through the coconut groves. The basket boats are traditionally used by local fishermen to catch small fish and shrimp in the river, and the tour join with traditional of life.
During the tour, you'll also have the opportunity to try your hand at catching fish and shrimp using traditional techniques. You'll learn how to throw a fishing net and how to paddle the bamboo basket boat, which is harder than it looks!
In addition to the basket boat tour, Cam Thanh Coconut Village is also a great place to relax and enjoy the peaceful countryside. You can take a leisure bike ride through the village and the surrounding area, or just sit back and enjoy the views.
The village is also home to several small, family businesses that make traditional handicrafts. You can watch as local artisans weave baskets and mats using coconut leaves and other natural materials, and you can even try your hand at making your own.
Cam Thanh Coconut Village is a charming and peaceful destination that offers a unique glimpse into traditional Vietnamese village life. Whether you're interested in fishing, handicrafts, or just relaxation, a visit to Cam Thanh Coconut Village is a must-do during your Hoi An trip.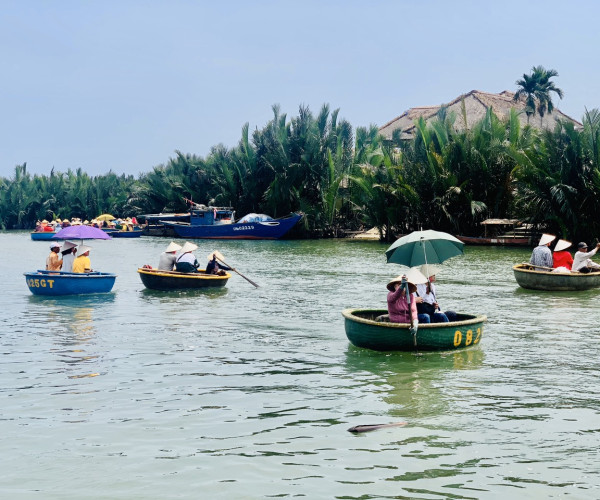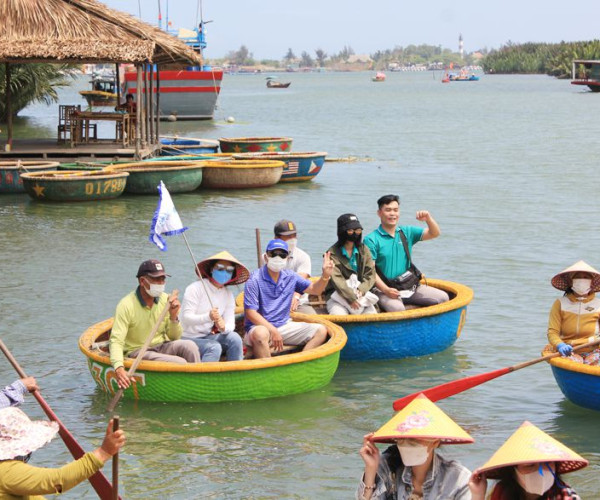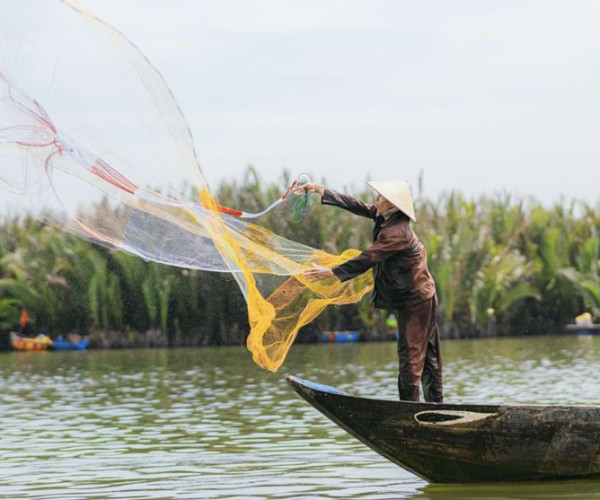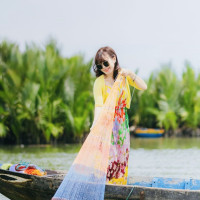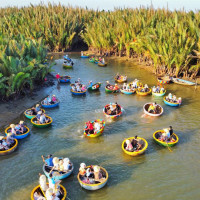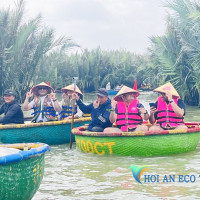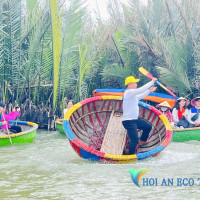 Tour code: Cam Thanh Fishing Village Private tour
Pick up: Hotel at Hoi An
Destination: Cam Thanh Village
Transfer by: Car or Bicycle,  Basket Boat
Tour: Half day Hoi An Tours
Departure time: 08h30 Or 14h30
Journeys
Bay Mau Cam Thanh Coconut Palm Tour 

08:30

Local tour guide pick up at Hoi An Hotel , move to Cam Thanh wharf. (Cam thanh coconut village)

09:40

Transfer to the basket and go along the Thu Bon River for reaching to Bay Mau coconut forest to admire the scenery both sides of the river and the local people's living activities.

10:30

Starting the journey to explore the Bay Mau coconut forest: learn how to row the basket boat , fishing crab, how to throw the net for catching fishes , how to make the hat, grasshopper, rings ect. by coconut leaves and save all memories with these green beauty of coconut forest Cam Thanh.

You will be seen the fantastic performances shake basket boat and throw the net for fishing.

13:00

Lunch

 at the restaurant and rest on the hut or hammock or leafy house (OPTION)

14:30

The end of tours. The program may be changed depend on the weather, while ensuring all the tour program sights. /.

Group up 5 pax please contact Hotline: 0916 52 8884 (Mr Smith) for special price

$15 USD = 350,000 VNĐ /1 pax

(Applies to a group of 02 adults or more)
Tour price for children
Children Under 9 years old: ++ 75% price

Children over 10 years old: 100% of the tour as adults.
Tour including
Free pick up and drop off at the Hotels | Resorts in Hoi An

Basket

boat with safety equipment including life jacket supplied

Visiting Tickets

Local guide with good care and friendly 

Water (1 bottle 0.5ml)/ person / day.   
Tour Excluding
Lunch meals

Tips for waiters, tour guide, drivers.

Other personal expenses
What your should bring?
Sunbath protection & Lotion

Big hat or Umbrella

Sunglass 

Camera with full battery

Short

T-Shirt
What your should not bring?
Credits card

Valued belongings
The order of attractions in the 

Hoi An Daily Tours

 Program can be flexible changed to suit the journey time, but still make sure the route program for you.

Pregnant women over 6 months, spinal cord injury visitors, cervical discharge, myocardial infarction, heart disease will not be allowed to join in this program for themselves safety.

Groups over 10 guests we will organize a private tour or group tour according to the actual situation but still ensure the quality of service and program does not change.

Refund 100% of the fee if the weather is affected or the political situation is unstable.

Do not throw garbage, litter in public places or plastic bottles into the river

Hoi An Daily Tours PACKAGE is a package tour (personal expenses outside the program, you pay yourself)
Hoi An Daily Tours Program can be flexible changed according to the actual situation, but still ensure the tour programs for you.

On the Public, New Year holidays, surcharge 30% of tour price.
Hoi An Daily Tours see more at: 
If confirm booking please send us the list includes: Name, date of birth, email address (if available) or mobile numbers to companies for buying insurance.
CONTACT
HOI AN ECO TRAVEL
Add: Cam Thanh, Hoi An, Quang Nam, Viet Nam.
Tel: 02356.25.83.83 - Hotline: 0916.52.8884
Email: hoianecotravel@gmail.com
Website: www.hoianecotravel.com
Bay Mau Hoi An Fishing Village Group Tourcam thanh coconut villageEco Tours Hoi An
Let us know as your request
If the tour program does not your equest, please send to us your request information via contact email: hoianecotravel@gmail.com